Related resources
Regional
Accomodation
Transport
Activities
Mud Monster Mud Rush 2017
Provider: Harbour Sport
Region: Auckland
Duration
Ongoing
Description
Muddy the Mud Monster is BACK and is pleased to announce the arrival of the 2017 Mud Rush! Presented by Harbour Sport in partnership with Massey University, this year's edition is guaranteed to be bigger, better and muddier than ever! On September 9th & 10th 2017, those who dare to take on the challenge will be tested on a muddy 2.5km obstacle course with a few messy surprises along the way. This event is aimed at friends and families who seek fun and adventure.
Imagine crawling through mud pits, slipping and sliding down muddy water slides, climbing over walls and tyre mountains, splashing through murky waters and of course getting covered in lots and lots of mud! Have you got what it takes to be a key member in helping the event run smoothly by being a member of our volunteer team?!
Join the Mud Monster Mud Rush crew and take part in the muddy action on the day. You will get to be a key member of the team and help us assist our muddy participants on the day. You'll also get some delicious lunch and snacks, and free entry onto the course if you'd like to take on the challenge.
Volunteer Requirements:
16 years or older with a fun, can do attitude and be energetic and supportive.
To be able to commit 7 hours of their time to the event (8am – 3pm), or 14 hours if you wish to do both days (Saturday 9th and Sunday 10th September)
To have their own transport to the event and be reliable.
To be able to communicate to the event crew via email or phone prior to event
Volunteers Bonus's:
Run the course for FREE
Lunch and snacks for the day
Opportunity to contribute to the North Harbour Community
Reference letter on request
Two volunteer job choices:
Marshalls
Cheer on and encourage the mud rush participants as they complete the course. You will be assigned to an obstacle and be responsible for that area of the course, ensuring safety at all times. It is your job to help all participants complete our mthe course safely
Event Crew
Help with all aspects of event operations, and get participants excited to run the course!
• Create an exciting atmosphere
• Get participants excited
• Direct people where to go
• General event support. This can include awesome fun things like:
• Helping participants find where to go at the event
• Cheering on people when they cross the finish line
• Helping with Muddy's warmup
• Helping with water and food for volunteers and participants
• Sausage sizzle
• Registrations and bag drop
• Car parking
Register now to confirm your spot! Please indicate your role preference and days available (Sat, Sun or Both). While we do our best to accommodate preferences due to the nature of the event we cannot guarantee requests.
For more information or if you have any questions please contact: harbour08@harboursport.co.nz or check out the event website www.mudmonstermudrush.co.nz
Visuals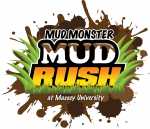 Skills required
Fluent in English